dokuwiki:ToDo, dokuwiki:Searchpattern
A Task/Todo Plugin for Dokuwiki
Um diese Seite in Deutsch anzuzeigen, klicken Sie bitte hier.
Description
This Plugin was created by Babbage:

This Plugin was upgraded to work with the new version Release 2013-03-06 "Weatherwax RC1" of Dokuwiki and was successfully tested.
Attention: searchpattern plugin integration is deprecated since version 2014-03-17 - use new built-in ~~TODOLIST~~ syntax instead
Siehe ~~TODOLIST~~

Up to version 2013-04-13 this plugin in combination with my modified Dokuwiki searchpattern Plugin (http://www.eibler.at/dokuwiki-todo/download/dokuwiki-searchpattern_latest.zip) can be used to show and track all tasks on a single page.

Installation
Download the Plugin from download.
Unzip the ZIP file in your Dokuwiki Plugin Directory (usually DOKUWIKI-INSTALLATIONS-ORDNER/lib/plugins).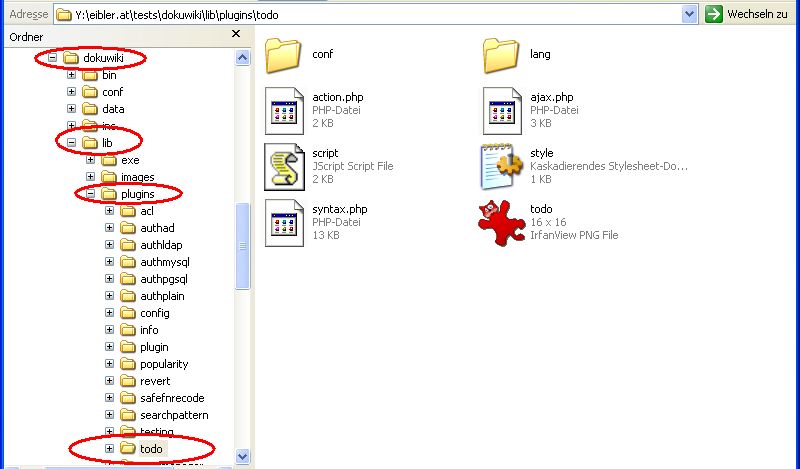 Activate the Plugin in the Administrator Panel.


Usage
Mark a text within the page and click to the Todo Symbol

.



After the ToDo Symbol was clicked, the highlighted text will be surrounded by <todo&rt; Tags.



The ToDos can now be marked as done or already done todos can be marked as open.
ATTENTION: The function to mark the todo as done uses Javascript/AJAX!.
User assignment with @
With the new user-assignment function (since version 2013-04-11) can tasks be assigned to users.
This is done with the control character @ (at): <todo @person>:



Overview about all todos from all subpages with new ~~TODOLIST~~ syntax
The new (since version 2014-03-17) built-in ~~TODOLIST~~ syntax is a replacement for the ~~SEARCHPATTERN~~ integration.
Features:

~~TODOLIST~~

will display all open and closed todos from all pages

~~TODOLIST completed:no~~

will display all open todos from all pages

~~TODOLIST completed:yes~~

will display all closed todos from all pages

~~TODOLIST assigned:User1,User2~~

will display all open and closed todos from all pages assigned to

User1

or

User2

~~TODOLIST assigned:@@USER@@~~

will display all open and closed todos from all pages assigned to current logged in user

~~TODOLIST assigned:@@USER@@ completed:yes~~

will display all closed todos from all pages assigned to current logged in user

~~TODOLIST assigned:Gerrit,leo completed:no ~~

will display all closed todos from all pages assigned to user

Gerrit

or

leo
Overview about all todos from all subpages
It is possible to show (collect) all tasks from all (sub-)pages on a single page and they can be completed on this page with the integration of the new version of dokuwiki searchpattern plugin.
To use this integration the searchpattern Plugin (at least version 2013-04-11) must be installed.
After the installation it can be activated by using this documentation:

First turn off the cache with

~~NOCACHE~~

All open (uncompleted) tasks will be displayed using

~~SEARCHPATTERN#'/<todo[^#>]*>.*?<\/todo[\W]*?>/'?? _ToDo ??~~

All completed tasks will be displayed using

~~SEARCHPATTERN#'/<todo[^#>]*#[^>]*>.*?<\/todo[\W]*?>/'?? _ToDo ??~~

It looks like this:

All user assigned tasks will be displayed using

~~SEARCHPATTERN#'/<todo[^@>]*@([^\W]+)[^#>]*(#)?[^>]*>(.*?)<\/todo[\W]*?>/'?? $2,1,3 ??~~



The number of all assigned tasks will be displayed using

~~SEARCHPATTERN#'/<todo[^@>]*@([^\W]+)[^#>]*(#)?[^>]*>(.*?)<\/todo[\W]*?>/'~~



All tasks (without filtering) will be displayed using

~~SEARCHPATTERN#'/<todo[^>]*>.*?<\/todo[\W]*?>/'?? _todo ??~~



Searchpattern Plugin Examples
Settings
Download current version
Versionhistory